11 Mar 2014 : Aisling Newton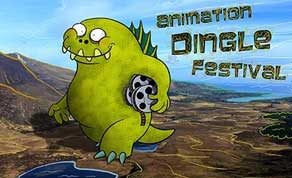 In a joint initiative with Irish animation company Jam Media, Dingle International Film Festival is set to host 'Animation Dingle', a one-day gathering where top industry names will gather to celebrate Irish cartoon.
Oscar nominated Irish animator Richard Baneham (Avatar) is to receive the Murakami Award for achievement in the practice of animation. The Dubliners previous credits include 'Lord of the Rings', 'The Iron Giant' and 'The Chronicles of Narnia.'
Joining Baneham will be Tomm Moore of Cartoon Saloon. The pair, who previously studied animation together in Ballyfermot, will give a presentation on Indy versus Blockbuster films. Moore (Secret of Kells) will also discuss the process involved in creating the animated feature film, 'Song of the Sea', as part of collaboration between studios across five different countries. The film was among the highlights presented at Cartoon Movie's animation co-production forum last week in Lyon, France.
Moore said: "We were delighted with the packed out audience for our presentation on 'Song of the Sea' in Cartoon Movie. Many people said our presentation made them hungry to see the film."
Speaking about the upcoming festival in Dingle, Moore added that: "I'm looking forward to discussing the pros and cons of Indy versus Blockbuster filmmaking with Richie and to hear about the exciting work he is doing at the moment."
Jam Media, led by CEO Kerryman John Rice, will give an opening address followed by a presentation of the YA-O-TY Award (TY Animator of the Year).
A selection of animated shorts from Ireland and abroad such as 'Alfred & Anna', The Battle for Ravenwind: The Right to Radios', 'Coda', 'Rabbit and Deer', 'The Missing Scarf' and 'The Neighbours' will feature at the festival. There will also be a free family screening of the Oscar nominated animated feature 'Ernest & Celestine',
The short animation film 'Ledge End of Phil', written and directed by Paul O'Muiris and produced by Paul Young for Cartoon Saloon, will also be screening at the festival.
O'Muiris said: "It's great to have been selected to screen as part of the animation showcase for this year's Dingle festival. It's an exciting line-up and promises to be a fantastic weekend."
The festival is presented by Dingle IFF with JAM Media, supported by The Irish Film Board and assisted by The Creative Media Department, ITT.
'Animation Dingle' will take place in St. James' Church on Saturday March 15, the second day of the four day festival, between 12 noon and 4.30pm.
For more information on 'Animation Dingle' and the Dingle International Film Festival click here or follow them on Twitter at @DingleFilm